Corporate Social Responsibility
We engage in corporate social responsibility (CSR) by investing in the improvement of communities. This is part of our business philosophy. We invest in education, health and the environment. We also engage in corporate philanthropy.
Graphic Needy Trust Fund
We help with the health care of communities and individuals through these vehicles:
We help needy people who are ill with cancer, heart diseases etc. to get treatment, including surgery.
The Graphic Needy Trust Fund is the vehicle for this help. Since 1989, the fund has benefited more than 170 needy people in Ghana.
Junior Graphic
We use the Junior Graphic as a social responsibility tool to help children to cultivate the habit of reading and writing. This is to help deal with poor reading habit among Ghanaians, which has become a national challenge. It is also a platform for children to contribute to discussion of national issues and, hopefully, influence public policies that affect them. We, therefore, subsidise its cover price.
Free Junior Graphic copies for deprived schools: To create the opportunity for more pupils, especially in deprived schools, to also benefit from the advantage of reading the Junior Graphic's, rich content, we distribute free copies of the paper to deprived schools.
Junior Graphic Fan Clubs: To further the objective of this social responsibility project, we have formed Junior Graphic Fan Clubs in schools with the aim of encouraging pupils to read and write.
Junior Graphic Spelling Competition (JGSC): We have also instituted the Junior Graphic Spelling Competition (JGSC) among schools that have Junior Graphic Fan Clubs. The JSGC is to verify whether children read.
Promotion of excellence in journalism schools
We take professionalism in journalism very seriously. As a result, our stakeholders use us as the yardstick of professionalism in journalism in Ghana and heavily criticize us for even the smallest professional slips for which they easily forgive our competitors.
It is, therefore, our cherished project to support institutions of journalism to produce well-trained and professional journalists by sponsoring excellence awards of those institutions.
Sponsorship of GIJ Best Professional Student Award: We sponsor this excellence award, instituted in 2009 by the Ghana Institute of Journalism (GIJ) for the best student in communications.
Sponsorship of AUCC Best Student in Journalism.
The company also sponsors the Best Student in Journalism Award of the African University College of Communications (AUCC).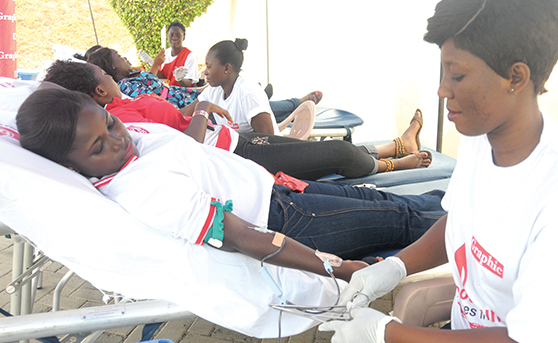 Free Medical Care
Free Medical Care: We run an annual community project with a partner to give free health care to Adabraka, the community that hosts us.

The project registers children, the aged and vulnerable adults of the community with the National Health Insurance Scheme for an all-year-round access to health care.

On the registration day, they also have free medical screening and dental treatment. We initiated the project in 2005..
Gratis adverts and Social Discounts
We grant discounts on advertisements of worthy not-for-profit causes and even, sometimes, carry such advertisements gratis. We are committed to such causes because of our understanding that we have an obligation to promote causes that enhance society's wellbeing.